Import
Verify
Analyze
List cleaning made simple. Upload your list, verify your data, and analyze your results.
Import
Choose your list source
Upload a list from your computer, or import it from an email marketing platform of your choice to start your email verification.
Verify
Verify your list
Sit back and relax as your list is verified in real-time. This will only take a few minutes.
Analyze
View your results
See a detailed report with emails organized by status: deliverable, undeliverable, risky, unknown, or duplicate. Export a fully customizable clean list, and experience an increase in ROI and open rates.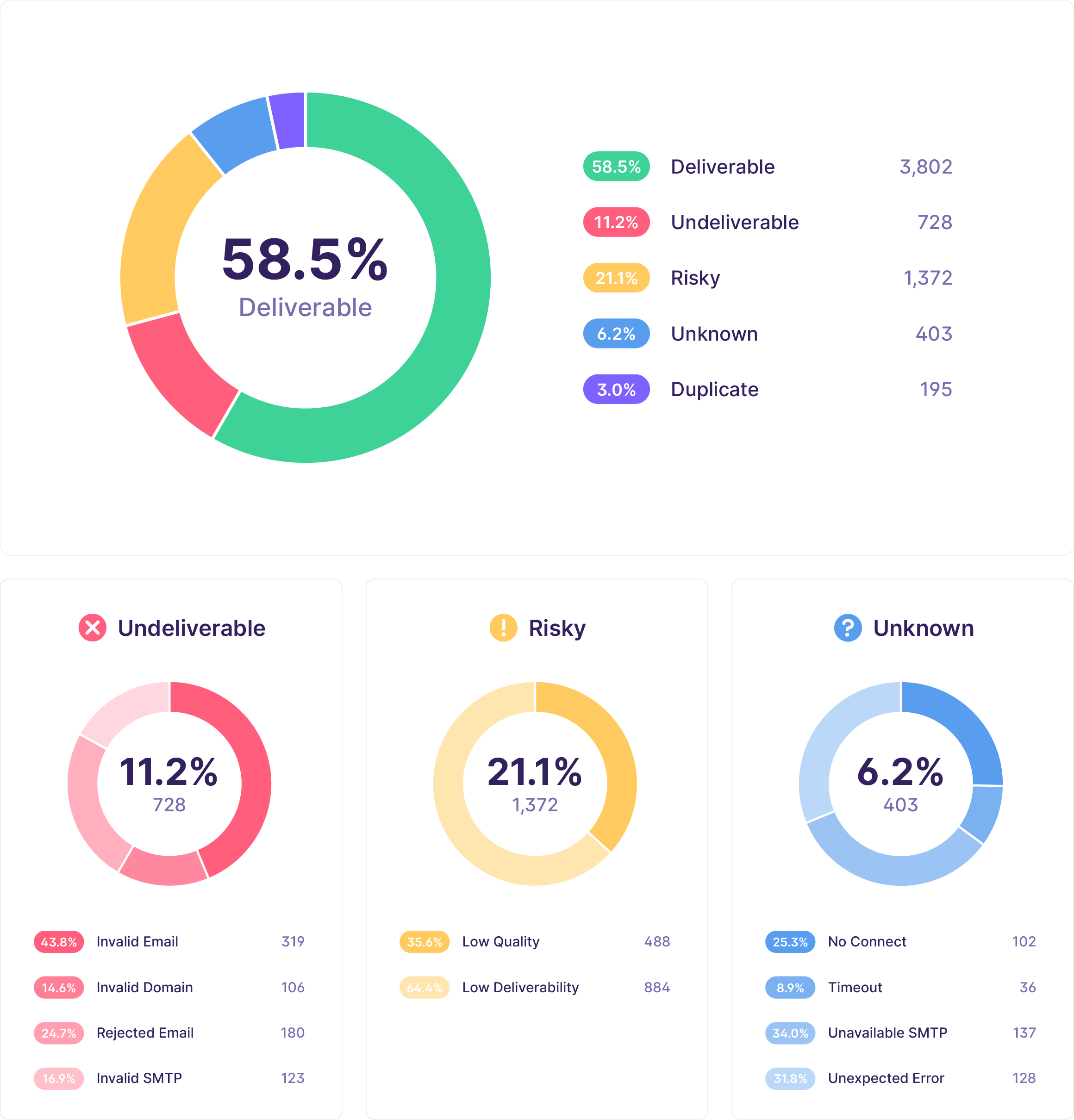 9 strategic benefits of email verification
List cleaning made simple. Upload your list, verify your data, and analyze your results.
Protect domain reputation

Keep your sender score high to ensure inbox placement.

Stay away from blacklists

Avoid getting blacklisted and emails landing in the spam folder.

Keep your list clean

Ensure good campaign results in the short and long term.

Reduce bounce rates

Free your list from invalid emails that will hurt your sender reputation.

Improve deliverability

Be confident your emails are seen and delivered to the inbox.

Get realistic metrics

Remove the bad email addresses that reduce your engagement rates.

Improve engagement rates

Drive more engagement by sending only to deliverable addresses.

Eliminate bad signups

Remove misspelled, fake and non-existent emails.

Save time and money

Stop being charged to send to invalid contacts in your list.
An essential component of digital marketing
Email marketing campaigns can yield an ROI of up to 3,400%, but only when properly executed. A key component of a successful email marketing campaign is proper list hygiene, which can be achieved with Bulk.
Stop wasting time by sending messages to contacts that don't exist - utilize Bulk email verification to ensure you only send to deliverable emails.